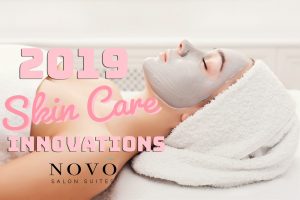 While 2018 brought us bakuchiol, a plant-derived form of retinol, CBD-infused moisturizers, and wearable UV trackers, 2019 is bound to be smarter, cleaner, and a hell of a lot more personalized. Take, for example, Neutrogena's 3-D-printed face masks or Unilever's upcoming customized skin-care line, Skinsei.
But that's just what we know so far. With 11 and a half months left in the year, the skin-care industry is bound keep on booming with innovative tech, trending ingredients, and customized products for individual skin concerns. So for now, here's what I'm predicting will be big — like, real big — in skin care in 2019.
1. 3-D Printed Skin-Care Products
Here's an all-too-familiar scenario: You rip open a sheet mask, slap it on your face, and then quickly realize the saturated cotton mask doesn't actually fit your face. Neutrogena knows this, which is why the beauty giant has been working tirelessly on a brand-new innovation to address this issue. Neutrogena MaskiD is a micro 3-D-printed face mask that's customized to fit both your face shape and its skin concerns.
The custom-printed mask, which isn't yet available, will align exactly with your individual face shape and structure, and it will be formulated with concern-specific ingredients on different areas of your face — all decided by you via a trusty app. The only thing more exciting than the technology behind the project is the drugstore price tag Neutrogena promises will come along with it.
Innovative, no? I know what you're thinking (because I was, too, when I first learned about the tech), "Where can I sign up?" Sadly, MaskiD isn't yet available to the public — rollout should be begin sometime in late 2019. Until then, grab your favorite sheet mask and…suck it up. Customization is coming.
2. Personalized Skin Care